2:00PM
Marine Serre's dystopian designs are disaster suits for our contemporary apocalypse. Her work responds to our forthcoming demise—fascism, , and . Her garments, made primarily of up-cycled fabrics, are a life raft amongst the wasteful toxic ocean that is the fashion industry. Her silhouettes and materials, a cross between classic Arabic shapes and European sportswear, bend the social order to envision a unified future. Through her references, Marine distills the formula of creating future wear to it's key ingredient—hybridity.
NR
While designing your breakout graduate 'A Radical Call for Love' you experienced the 2016 ISIS attacks in Brussels and Paris. You questioned 'why be a fashion designer at a time like this?' Were there books that informed your perspective during this crucial period?
MS
I was not reading much at the time, but of course I was reading the news… It was quite violent because I lived in both Paris and Brussels during the times of the attacks. It's heavy because all around the world, this happens every day. But, when it's at your feet, the way you perceive everything—including your own breathing—changes. Brussels is a really open-minded city, so when there are suddenly army trucks in the streets on a daily basis, your life changes. You don't party the same way. You don't go out the same way.
This all happened at the beginning of my research for the collection, I was not sure why I should continue after the attacks... So, I thought, okay, I need to make sense of what I'm doing here, and as the only thing I was really good at was making garments, I will not be better at doing something else. So, I just kept perfecting that, and learned to talk and to express through it.
At the time, and still today, what changed my mind about pursuing fashion is that I found a way to speak without words. So, I think it's the opposite of what you asked me about books; it's that I could find a language and express myself through garments.
NR
As a reaction to the attacks your collection was a call for unity⁠—through blending Arabic silhouettes with sportswear you saw on the street.
MS
I was searching for what people love in the street that actually connects to Arabic culture, not by their history but simply their shape. Through that, I started to make crossover links and researched form, fabric, and garments through books mainly. Then, I searched for 18th and 19th century silhouettes, and researched their historical lines. I remember looking at Algerian costume books and a lot of .
After researching, I tried to remake some of what I saw. At the time, I was interested in volume and made huge . This is typically something that I found in Hassan Hajjaj01 books. By trying it on a body it made more sense... It's hard, a garment is something that moves, an image does not. The research process is only the beginning, and for me it's really important what comes after. I cannot put them together as equal. Most of the time, it's actually the tension between what you want to do and what you do that makes things good.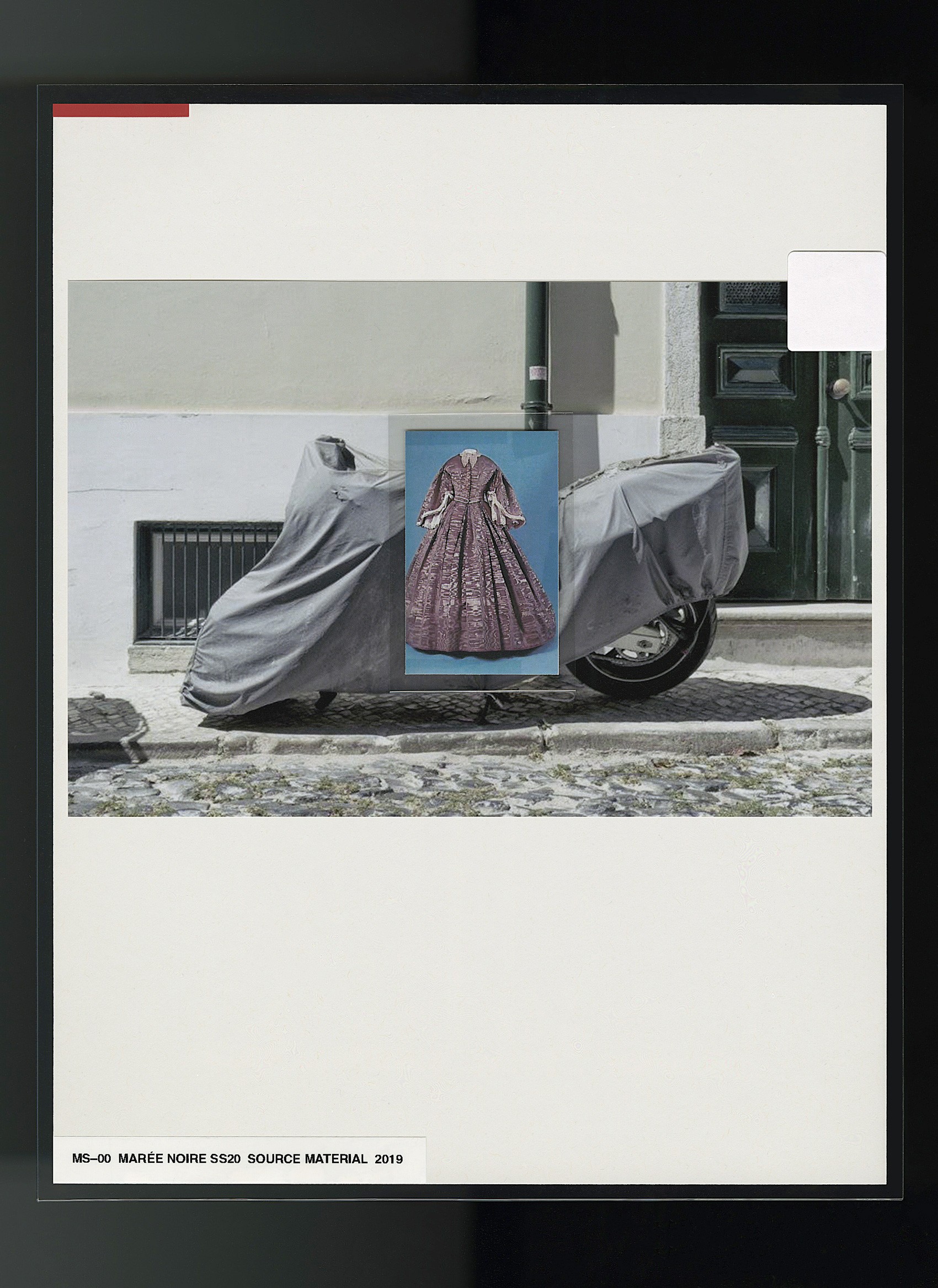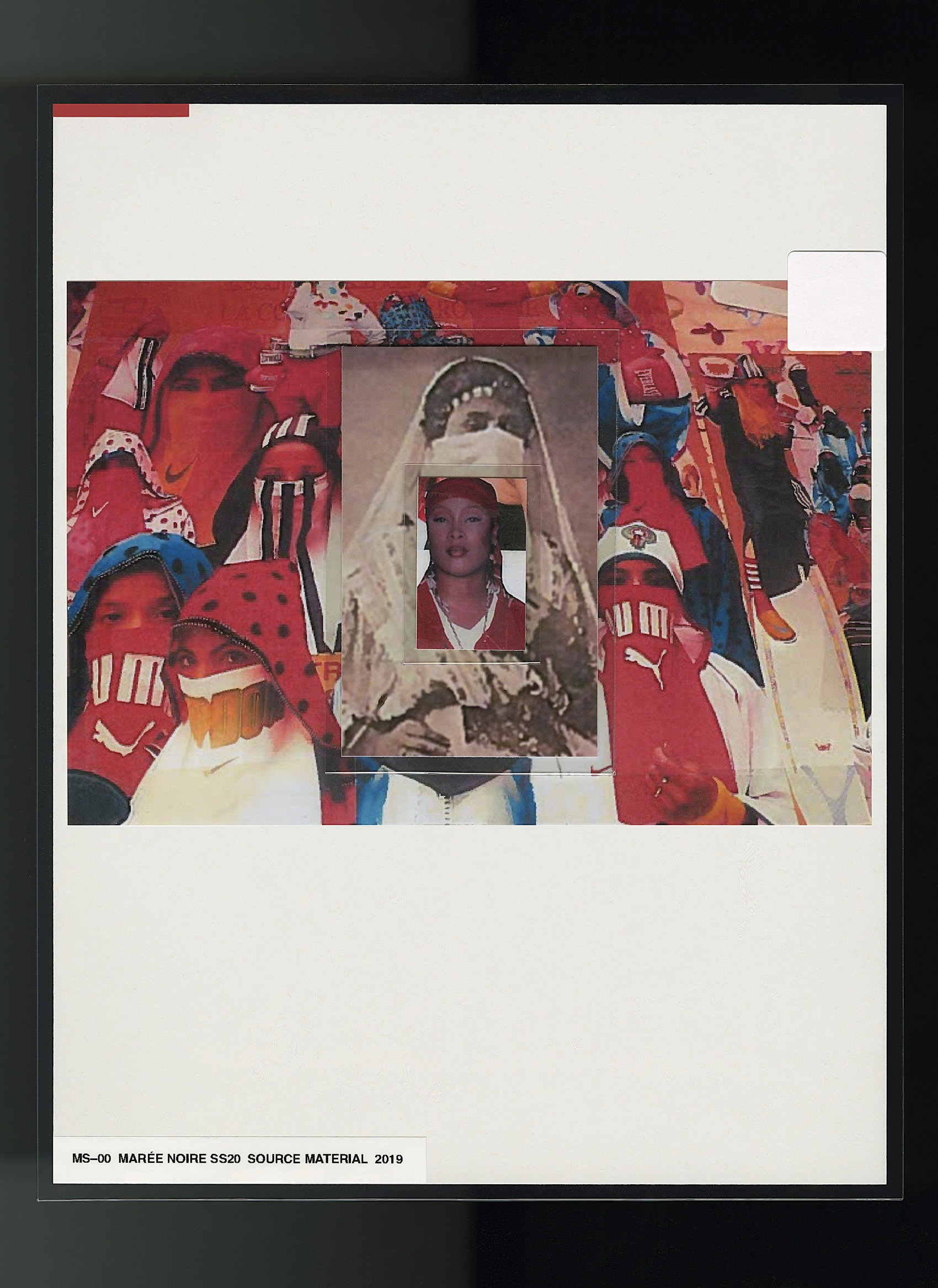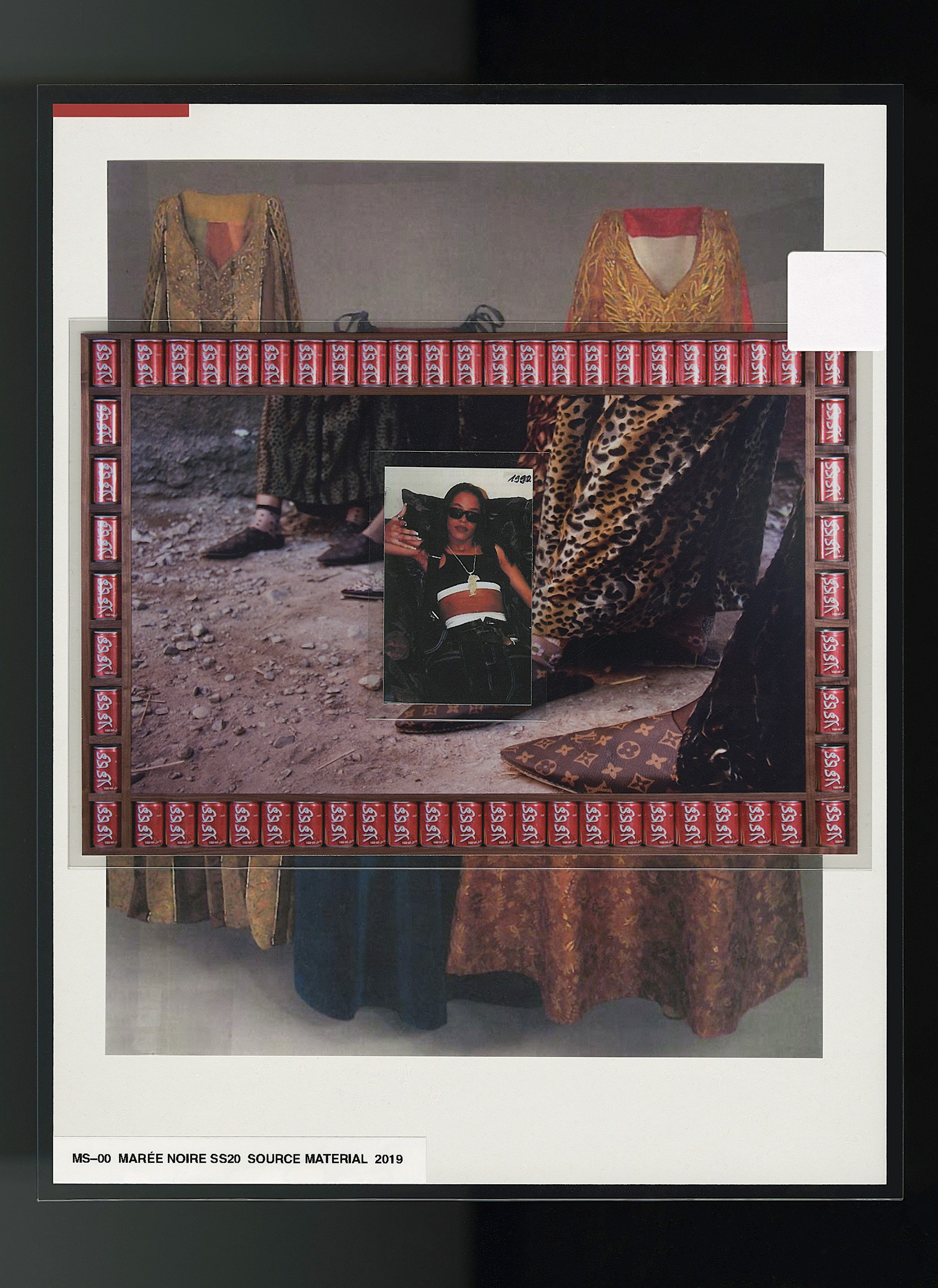 NR
What was the process for gathering print references for the SS20 collection?
MS
Here for example is an of a plant Pepijn found in the flee market of Pt de Clignancourt in Paris. It is almost like machine—then from there I turned it upside down and made some connection in between them and it made me think about a plant that lives in deep sea water. Then it became this print here: the , as seen in the collection.
NR
Sportswear has been a theme for you—you started playing tennis from the age of six.
MS
When playing I had to be someone who went to school dressed up in a certain way, because I was a 'girl'. Then, at six o'clock, I went to my tennis course, changed, and tightened my hair. When you play at such a young age, you develop a certain body, and are really muscled—you are eight years old and look like a 'boy'. In that sense, looking back, I see a lot of simple actions towards the theme of hybridity in my childhood.
NR
Sport is so theatrical, you put on this armor or costume and then perform for an audience. Much like fashion, it's a transformation.
MS
Totally. You have a special type of socks, bra, and skirt when you play tennis. It's like trying a new material on your skin and learning from it. This influenced a bit of the way I work on making garments, because I never want women to not be feeling good or trapped in my pieces. There's always this balance that I try to find—wanting to feel comfortable made me want to have the proper knowledge about how to make a garment.
NR
Can you describe hybrid themed books in your library?
MS
I have a lot with hybrids. From Donna Haraway's Cyborg Manifesto02 to animals that are hybrid—I really like Salamanders03, I like the fact that they are animals that are living in the water and also the ground. I like hybridity in humans. I see hybridity everywhere.
NR
Marine Serre is built upon the concept of Future Wear. Some of the most compelling film, design, and video games exist in future scenarios. Which sources that predict future scenarios do you follow?
MS
Many of the books that have influenced me are actually maybe not even about 'futuristic' things. When I pull a book on the , I read it as really futuristic. So, I don't have a vision of the future that is so much linked to futuristic strictly in a techno-robotic sense. Sometimes when people think about the future, people think only about technology, and they don't see the hybridity in it. It could be about the really deep past, and I think that this is actually super futuristic.
If you really want to create a future, you need to base it on history, otherwise your future won't be believable. The approach that I prefer will always be the one where I can trace how the past can become something futuristic. So, in that sense, I'm making garments with the same approach.
NR
There's been especially poignant times when people look towards the future. In the 1950s after the atomic bomb, Japan gathered citizens from all disciplines in a collective effort to rebuild. From Psychologists, Doctors, to Architects; they had to reimagine Japan from the ground up, and Japan's design became quite progressive because this forward thinking incubation period.
MS
For sure. It's also amazing how people can reconstruct themselves⁠—this part of interests me.
I am inspired by movies about futurism, such as; Annihilation, Blade Runner, Arrival, The Host, , Natural City, Cloud Atlas, Ex Machina, Under the Skin, 2001: Space Odyssey10, , and the original Ghost In The Shell.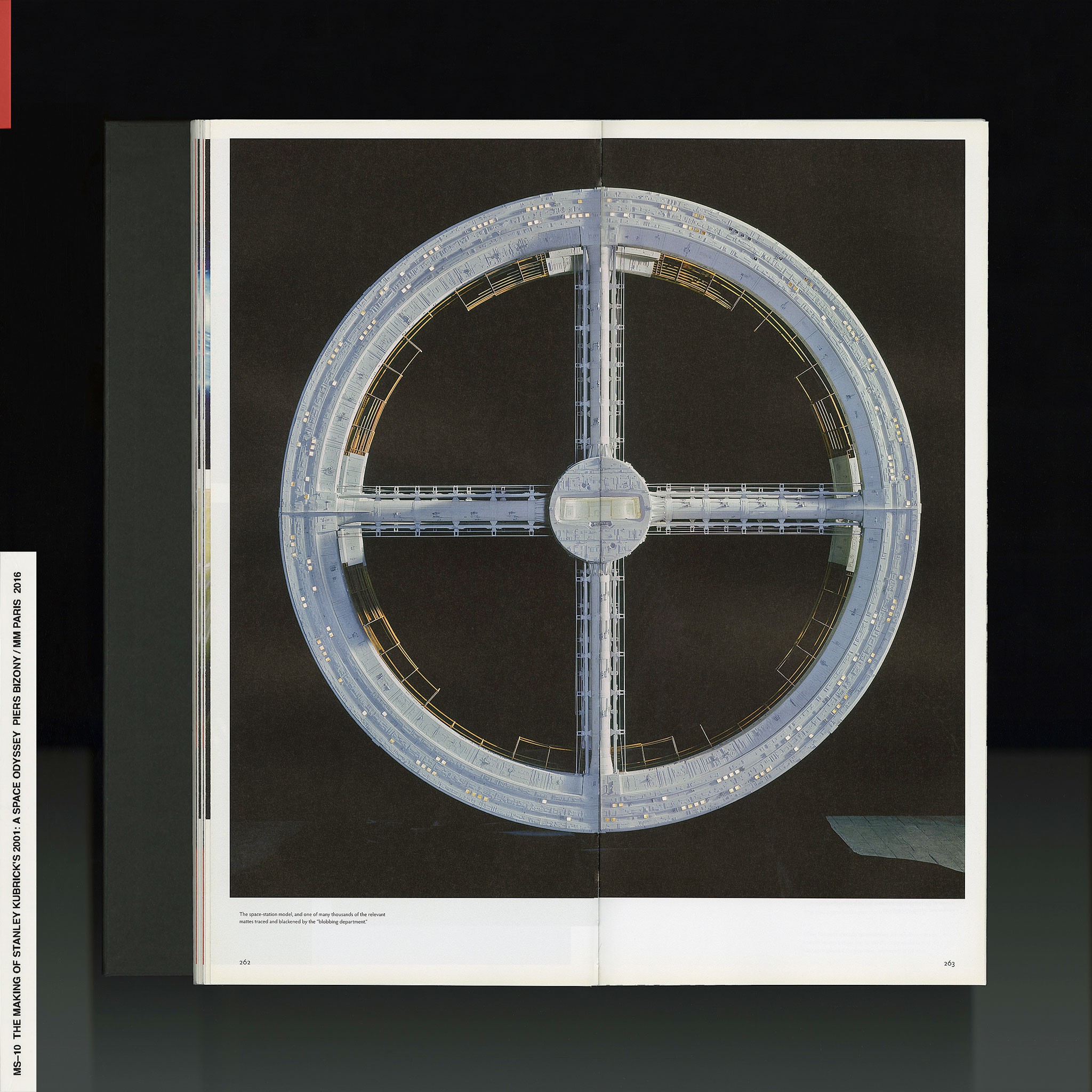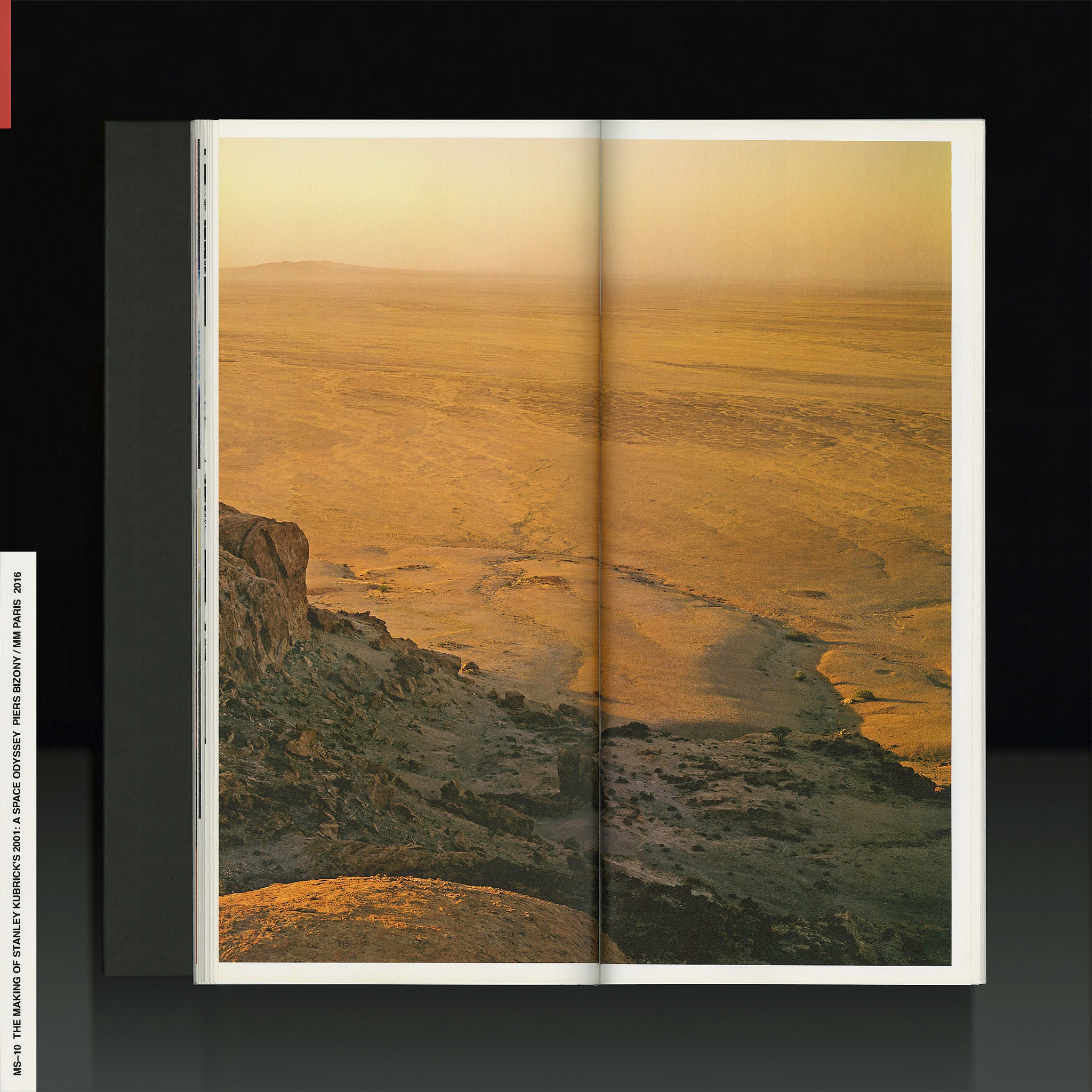 NR
You worked at Balenciaga with in his campaign to make a new statement at the house. You talked about how your version of future is very much rooted in the past. What was the process like working with the archive at Balenciaga to create a new vision?
MS
I learned a lot—looking at the archive of Balenciaga was beautiful. I saw the construction of the pieces and actually in a way these archive pieces were much more futuristic than many of the garments that are done in the industry today. You can find an extremely dynamic line in the draped dresses09 of that make more sense than many of the long hours we put into couture dresses today.
The experience also taught me about supply chain or how to manage 10,000 garments into production. When I started my brand, Marine Serre, my job was more production than design, because suddenly when you are regenerating old products, the design challenge is difficult. It's a totally different timing and process over what a normal fashion brand does, but you still have to deliver at the same time. So you have to be even faster.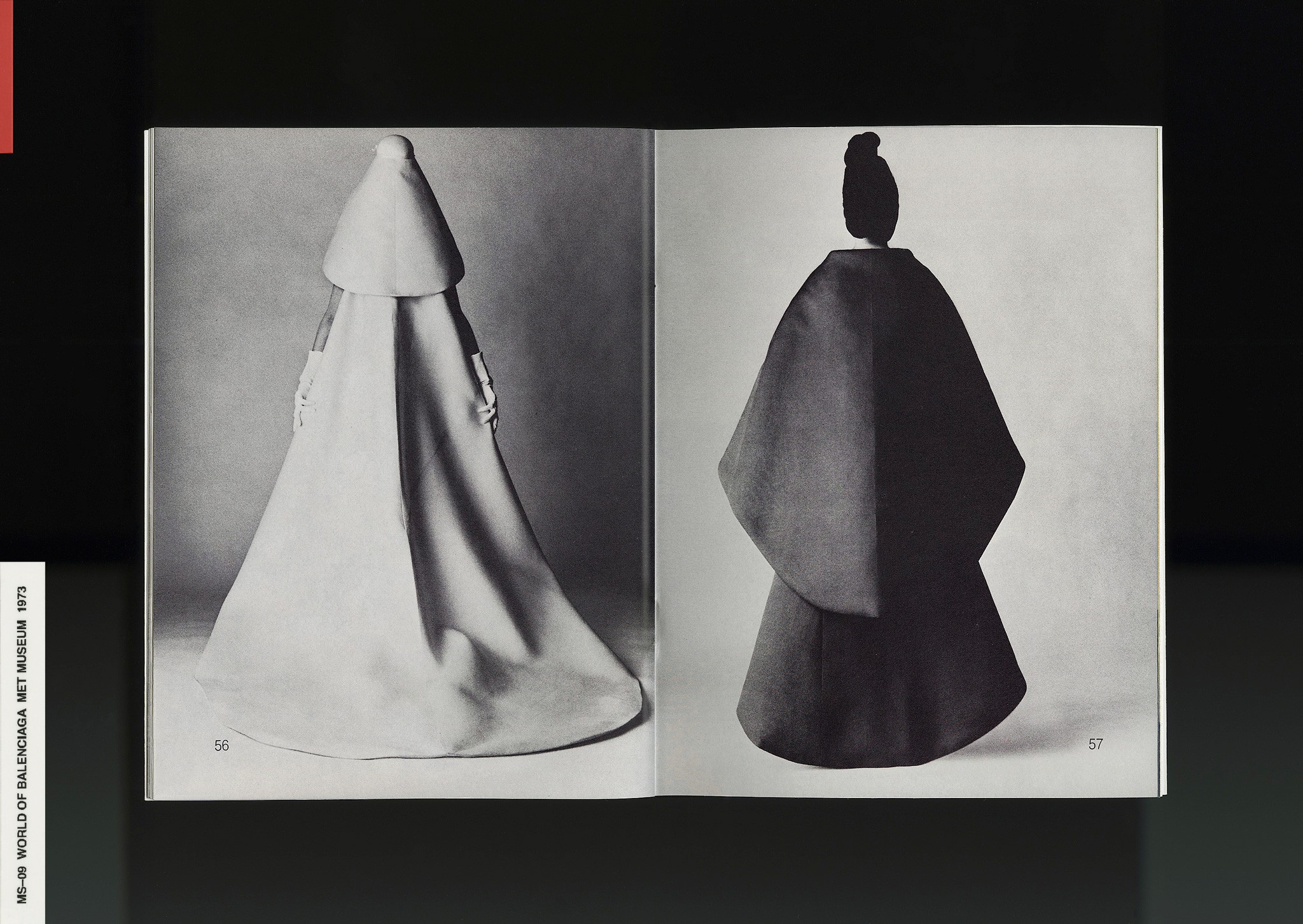 NR
What books shaped your childhood?
MS
I was not a big reader when I was a child—I was mainly in the forest all the time. I collected a lot of objects that I hid in a special place where no one could ever find them. I had a moment where I was really into animals and wanted to become a member of the wild animal rescue brigade. That was something I wanted before I was even interested in doing fashion.
I had big encyclopedias about plants04 and animals05. I drew a lot of plants and dried them in books to preserve them. I also had a scientific book about stars and planets. At the age of six I got seriously into tennis and remember having a book of World Records06. And of course later I had art books, because I started to study art.
The book that really struck me during my coming of age was no doubt Lettre a un jeune Poéte07 by Rilke. I think I read it 5 times and underlined all the important words and sentences. I don't know how this suddenly happened to me—I was really possessed by it for a long time.
NR
FutureWear is built upon a framework of sustainability and innovation which is expressed through four complementary lines; the up-cycled , the hybrid ready-to-wear , the core brand , and the new couture . Were there books that informed your practice of upcycling?
MS
I recently got a book L'Up-cycle08 from a friend of mine, but I have not read it yet. But to be honest, there's not a lot of books about . The difficulty about the upcycling manufacturing process is because you have to start from zero. There are no rules or many books about it. You just have to try and try again and fail and fail and fail and try again.
NR
You previously worked at Maison Margiela whose approach contains traces of what we now call upcycling.
MS
My passage at Margiela was a really important building moment for me—there was a lot of reconstruction practiced there. I was only 21 years old, it had great influence on me and certainly gave me a lot of energy and hope for my future work.
At the time, Martin himself was not there anymore, so it was not exactly the same. But in Belgium, where I studied, reconstruction is still a process that's liked by many people—even if it was not taught in school. They teach you to make garments or patterns, and there are books about that, but to know how to do it yourself you need to deconstruct many jackets, many pants, many shirts, because that's the best way to learn.
To be honest, regeneration of deadstock and old garments for me started also because I didn't have money. So, it's just probably how it started for everyone and Martin Margiela too. You just take things that are already there, and you try to transform them and make something out of it. It's a process that I really really like, I think it's also very beautiful and, in a way, it's also the most ecological and accessible fashion you can ever think of. Take what is there and do something with what is there. I think it makes a lot of sense for me.
I was already doing regeneration and upcycling in my collections even in my third year at La Cambre. But at the time I would never say these words like that. I just thought, okay, I don't have money, and I tried to make something cool, because this is the best I can do. And when I finished La Cambre, went to Balenciaga, and won the , then I really had the question of, okay, you are building a brand now, what do you stand for? Up to that point it was more like, you are just trying to express yourself.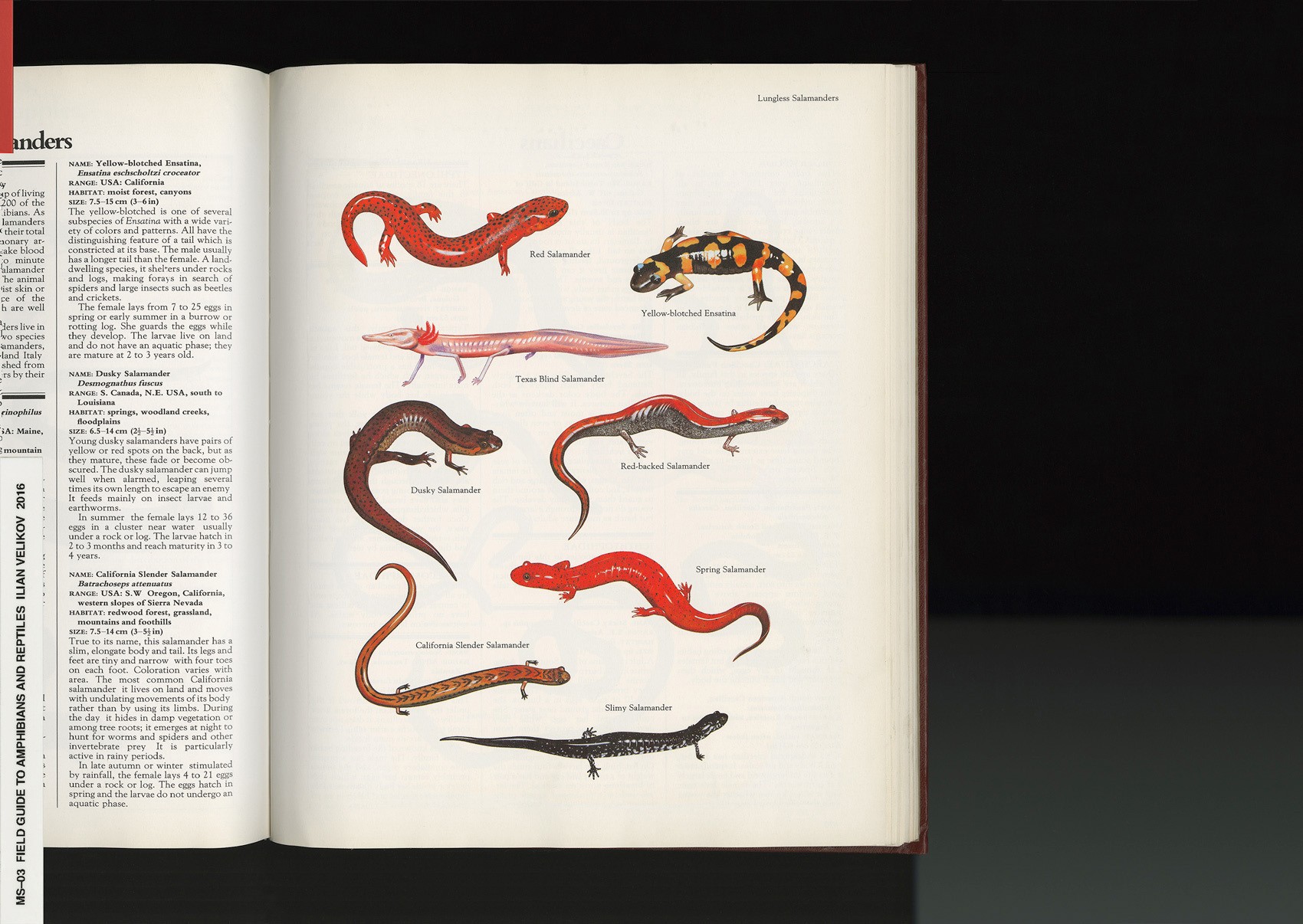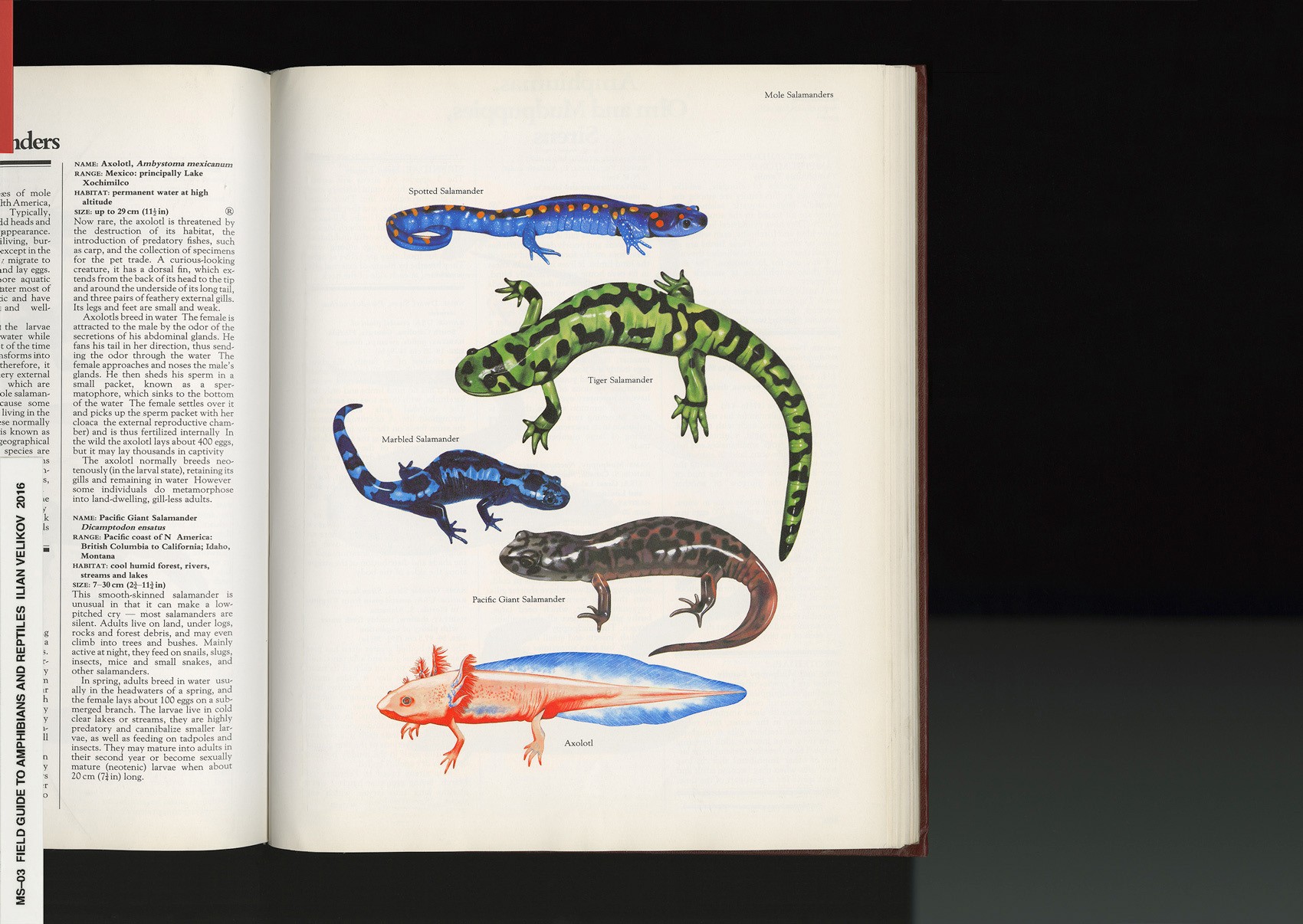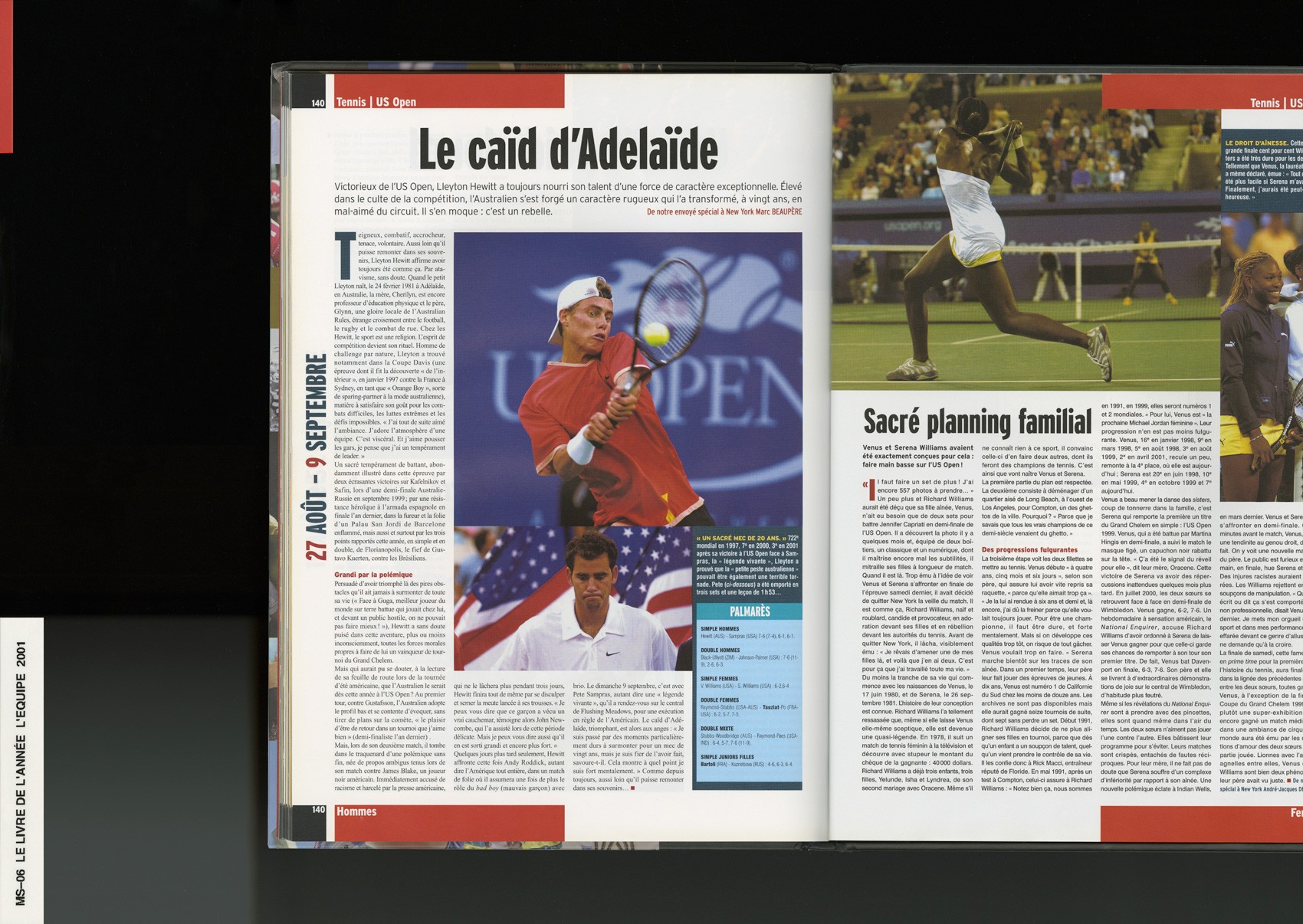 NR
FutureWear is a proposal to the immediate danger of climate change. How specifically are you reacting to that?
MS
Climate disruption is an important part of FutureWear of course, but FutureWear is not only about the climate in the end… But as for the climate: how can you make a brand today and not think about that? It would be ultra-strange for myself, and for me/us to not react to it, It's just normal—we did not overthink it too much.
What is true is that it's not easy once you start taking these things seriously. Just because you make upcycled garments does not mean that everything you do is perfectly sustainable. You also have to consider the way that you transport your materials and garments. There's also the way that you stitch, and where you produce. It's a much more global vision that you have to think about.
But all that said; I need to really emphasize that FutureWear is about imagining the future as a whole, including not only sustainability questions but everything from style to function, changing ways of life, etcetera.
It's a bit difficult sometimes for us when people are seeing the brand as something that is only doing upcycling and so on. Of course we are trying to always remain much much wider than that, even though responding to climate questions is a crucial part of what we all need to do.